BiosenseClinical Total Eye Care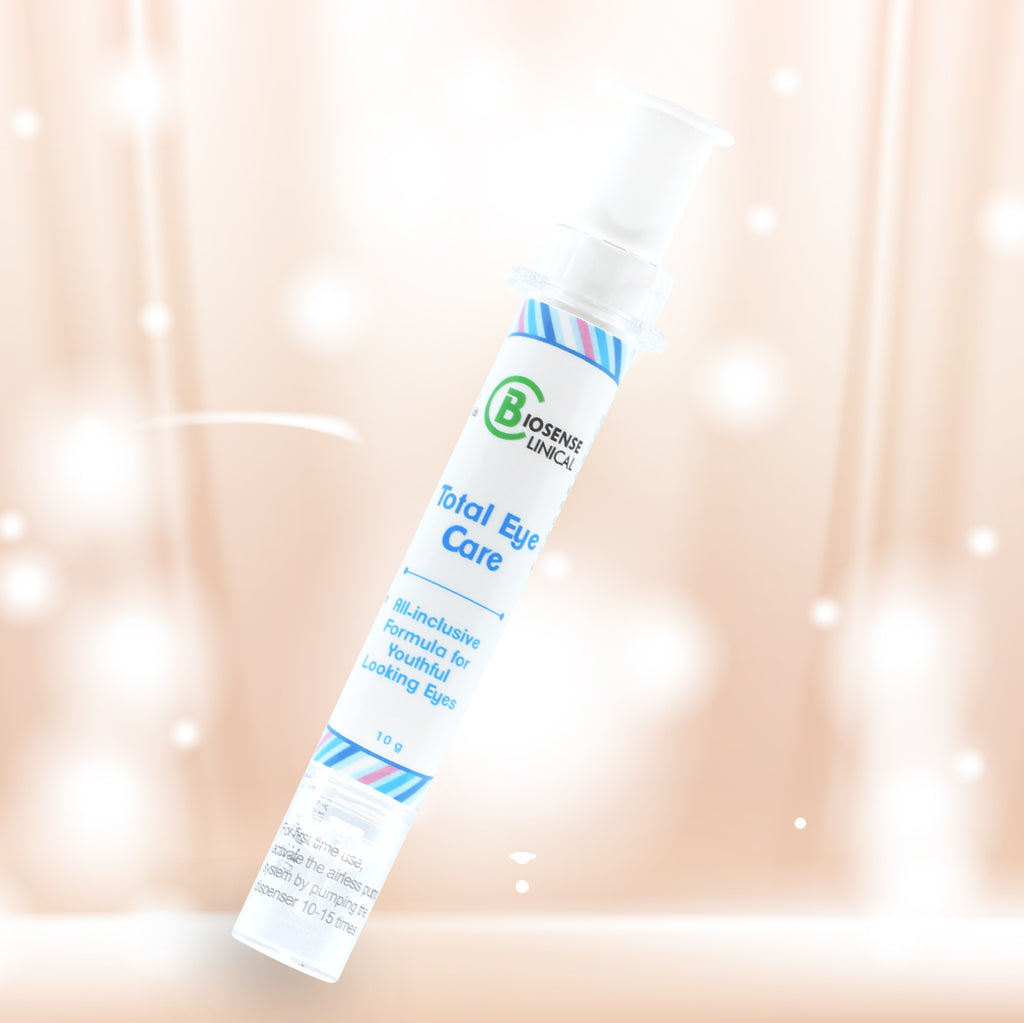 ---
All-inclusive Clinical Formula for Youthful Looking Eyes
Contains Multiple, Powerful Clinically Proven Patented Ingredients
Features:
'Botox' effects - tightens & lifts without needle pain
Erases wrinkles- restores the youthful look around the eye area
Dramatic decrease of dark circles and puffiness
Optimizes hydration of the delicate area around the eyes
Smoothen fine lines and crow's feet
Stimulates collagen production
Instant absorption, Non-comedogenic
Ingredients highlights:
Octapeptide
Clinically proven to reduce the depth of wrinkles after 4 weeks
Maximum clinical strength used in the formula
Palmitoyl tripeptide
Improves skin firmness and elasticity
Visibly reduces fine lines and wrinkles
Acetyl Tetrapeptide-5
Clinical study demonstrates:
Reduces eyebags in 4 weeks
Increases skin elasticity in 30 days
Refines pore appearance 
Swertia Chriata Extract
Clinically proven to blur the appearance of vertical wrinkles in 7 days
Stimulates the self-regeneration ability and thickness of epidermis
Leuconostoc / Radish Root Ferment Filtrate
Possesses antimicrobial activity and provides potent moisturizing benefits
Therapeutic Grade Frankincense essential oil
Promotes younger, fresher looking skin especially around eye area
Hyaluronic Acid (HA) With Different Molecular Sizes
High molecular weight HA forms a barrier on the skin surface to protect skin from drying out. Attracts and retains more than 1000x its weight in water -> super hydrating effect to minimize dryness, fine lines and wrinkles.
Low molecular weight HA can penetrate deeper into the skin to promote collagen production and retain moisture inside the skin
Different molecular weight of hyaluronic acid gives you a long lasting hydrating effect throughout the day
Beta Glucan
A 2005 clinical study demonstrated a significant reduction of wrinkle depth and height, and overall roughness after 8 weeks of use.
Researchers from the University of Alberta shows the deep penetration of beta glucan into the lower level of the skin and the reduction of wrinkles in as little as 10 days. It also promotes wound healing and reduction in scaring following surgical procedures.
Protect and repair while stimulating collagen production
Promotes moisturizing effect with its great good-water binding capacity
Soy rice protein
Clinically proven to reduce eye puffiness and dark circles while improving skin texture in 4 weeks
Special caffeine complex
Decreases the appearance of fine lines and wrinkles
Sodium PCA
Natural component of our skin
Attracts moisture from air and binds moisture to skin cells
Directions:
Apply to upper and lower eyelids AM and PM.
Precaution:
For external use only
Keep out of reach of children
Store in a cool dry place
Do not use if rash occurs and consult a doctor
---
More from this collection