BiosenseClinical HQ 2% Cream - Sunscreen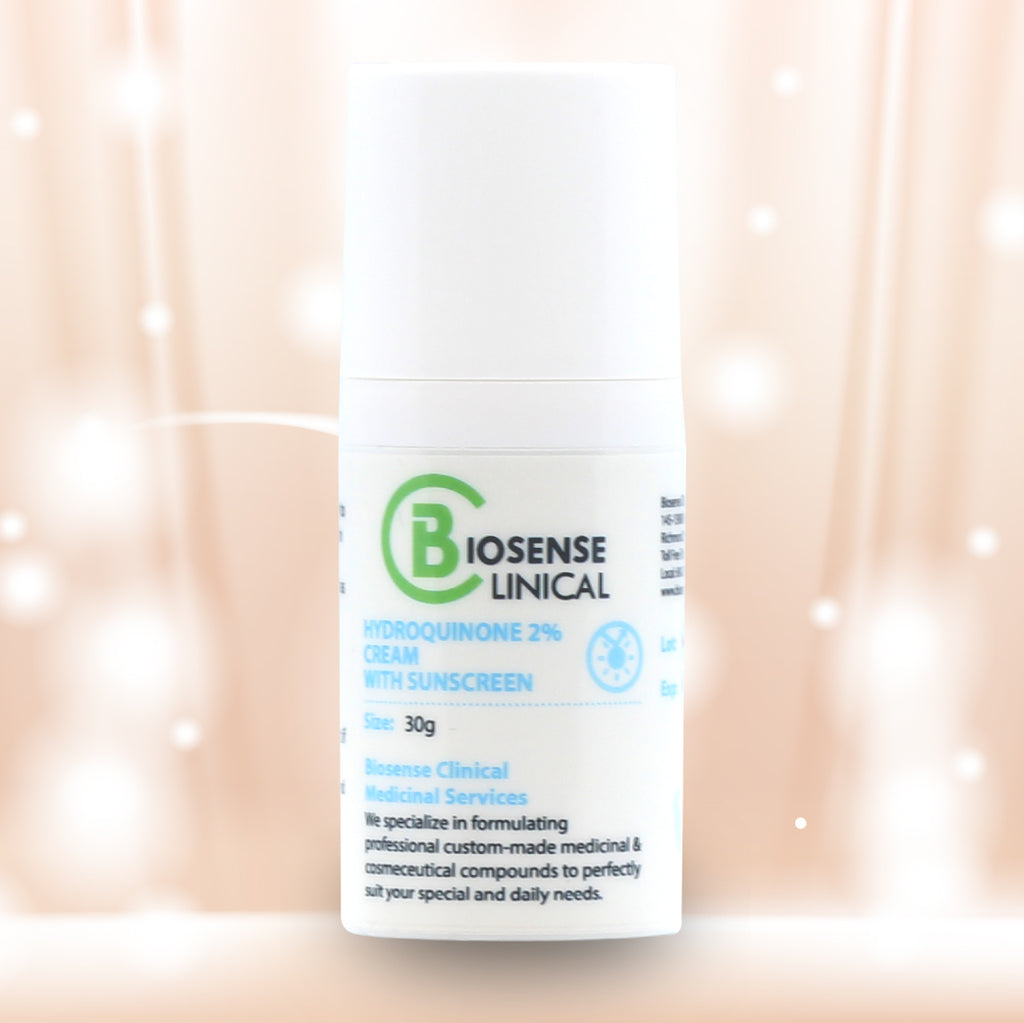 ---
Luxurious moisturizing texture

Custom formulating base in boosting penetration to increase the bioavailability of active ingredients ensure maximum efficacy
Indication:
It is used to lighten the skin where discoloration occurs.
How to Use:
Apply a thin layer evenly to affected area(s) and rub in well twice daily, in the morning and evening or as directed by a clinician.
Active Ingredient:
2% Hydroquinone USP in a custom formulated sunscreens moisturizing cream base
Oxybenzone USP
Octisalate USP
Vitamin C and Vitamin E and antioxidants
Biosense Clinical Medicinal Services
We specialize in formulating professional custom-made medicinal &cosmeceutical compounds to perfectly suit your special and daily needs.
Clinical Team recommendation:
Our clinical team advice hydroquinone containing products should not be used consecutively for more than 4 to 6 months. Prolonged use can potentially cause ochronosis (a persistent blue-black pigmentation) and hydroquinone resistance.
To reduce potential long term risk, our team suggest taking a break from hydroquinone or switch to HQ free product such as Specialty Brightening Cream & Dark Spot Corrector
If enhancement of brightening effects is needed, it is safe to use Biosense Clinical Professional Compound Specialty brightening cream and dark spot corrector in conjunction with hydroquinone.
Caution:
Discontinue use if a hypersensitivity or an allergic reaction occurs and notify your doctor.
Avoid exposure to sunlight, sunlamp or tanning bed during and after treatment.
Do not use if you are pregnant.
Tell your doctor if you are pregnant or plan on getting pregnant or breastfeeding.
Do not apply near eyes.
Do not apply to cut, abraded or sunburned skin, after shaving or using a depilatory agent or over prickly heat.
Advice:
For external use only.
Avoid contact with eyes. If occurs, flush eye(s) with water.
Minimize exposure to sunlight.
Wear protective clothing over treated areas.
When the desired degree of depigmentation is obtained, apply only as often as needed to maintain depigmentation.
If no improvement after 2 months, discontinue use.
This is a bleaching agent. It should not be used for the prevention of sunburn.
Store in a cool dry place.
Keep out of reach of children.
Wash your hands before and after use. Do not wash your hands after use if you are applying it on your hand.
Reference: Acta Derm Venereol 2012;92:232-235
---
More from this collection