BiosenseClinical Pure Rose Hydrating Mist & Toner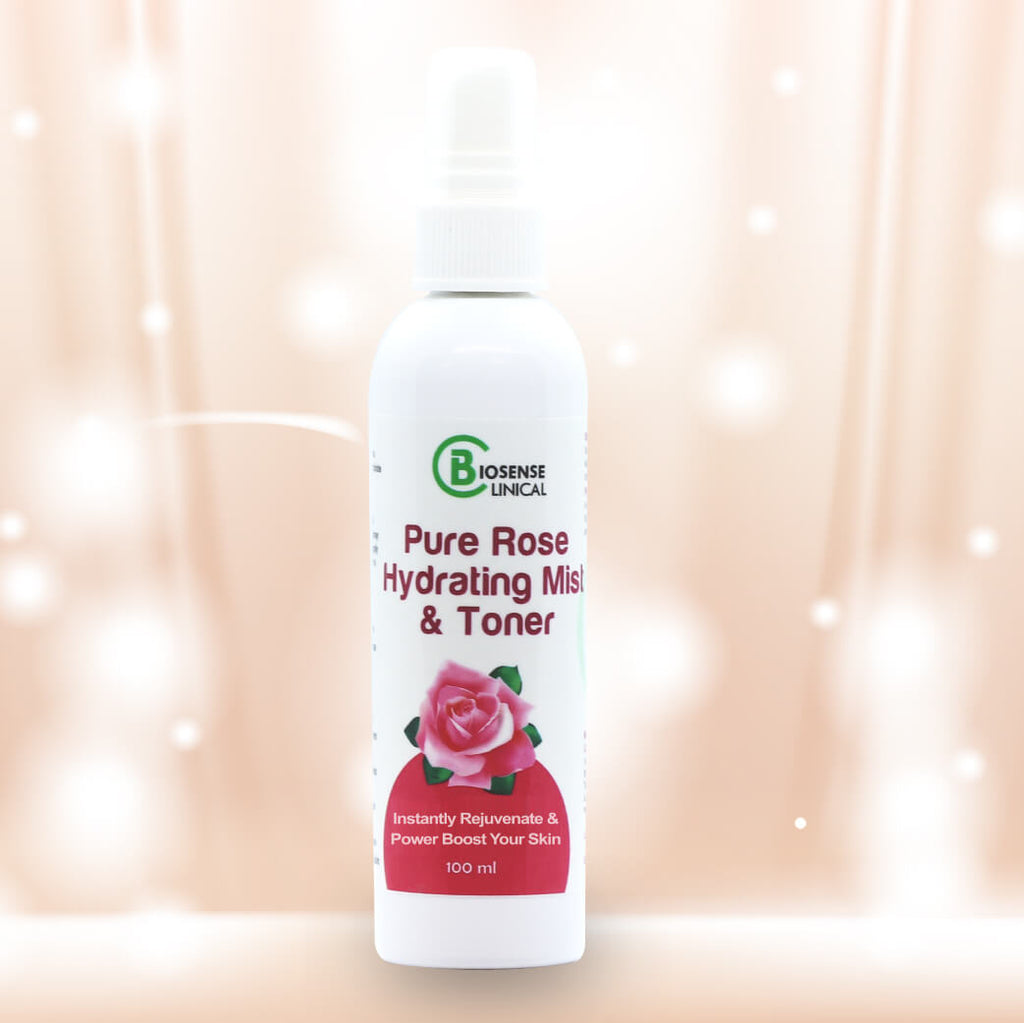 ---
Instantly Rejuvenate & Power Boost Your Skin
Features:
Certified 100% Pure Natural Damask Rose Water (Rose Otto)
Superb hydrating clinically proven ingredients to tone and plump up uneven & dull skin
Rejuvenates, hydrates, soothes & wakes up skin
Calms damaged, irritated & injured skin
Ideal for all skin types including sensitive skin
Directions:
Apply on cleansed face. Spray as needed to hydrate & plump up skin
Quick treatment for deeply hydrating, repairing & rejuvenating effect: Spray onto facial puff and apply onto face. Leave on for a few minutes.
Ingredients highlights:
100% Pure, Organic damask rose water (Rose Otto)
Natural beautiful fragrance rose water calms, tones, soothes, rejuvenates your skin
Ceramide complex
Skin-identical lipids deeply moisturize skin to improve dull, dry and aging skin
Vitamin B3 (USP)
Clinically proven to improve skin texture, appearance of dark spots, red blotchiness and fine lines
Helps to stimulate ceramide production
Vitamin B5
Improves hydration of stratum corneum (top layer of our skin)
Reduces transepidermal water loss
Helps to maintain skin softness and elasticity
Calendula extract
Contains saponin and polysaccharides that moisturize and soothe dry, irritated and delicate skin
Aloe barbadensis
Well known for its hydrating properties
Rich in vitamin B complex, folic acid, vitamin C and carotene to rejuvenate your skin
Imperata cylindrica extract
All-natural, plant extracts that are rich in potassium and 3-dimethylsulfoniopropionate (DMSP) provide excellent long term moisturizing effect
Increase hydration level by 45% when compared to control group in study
Storage:
Store below 30°C
Keep out of reach of children
Precaution:
For external use only
Do not use if rash occurs and consult a clinician
---
More from this collection