VitaAid UTI-X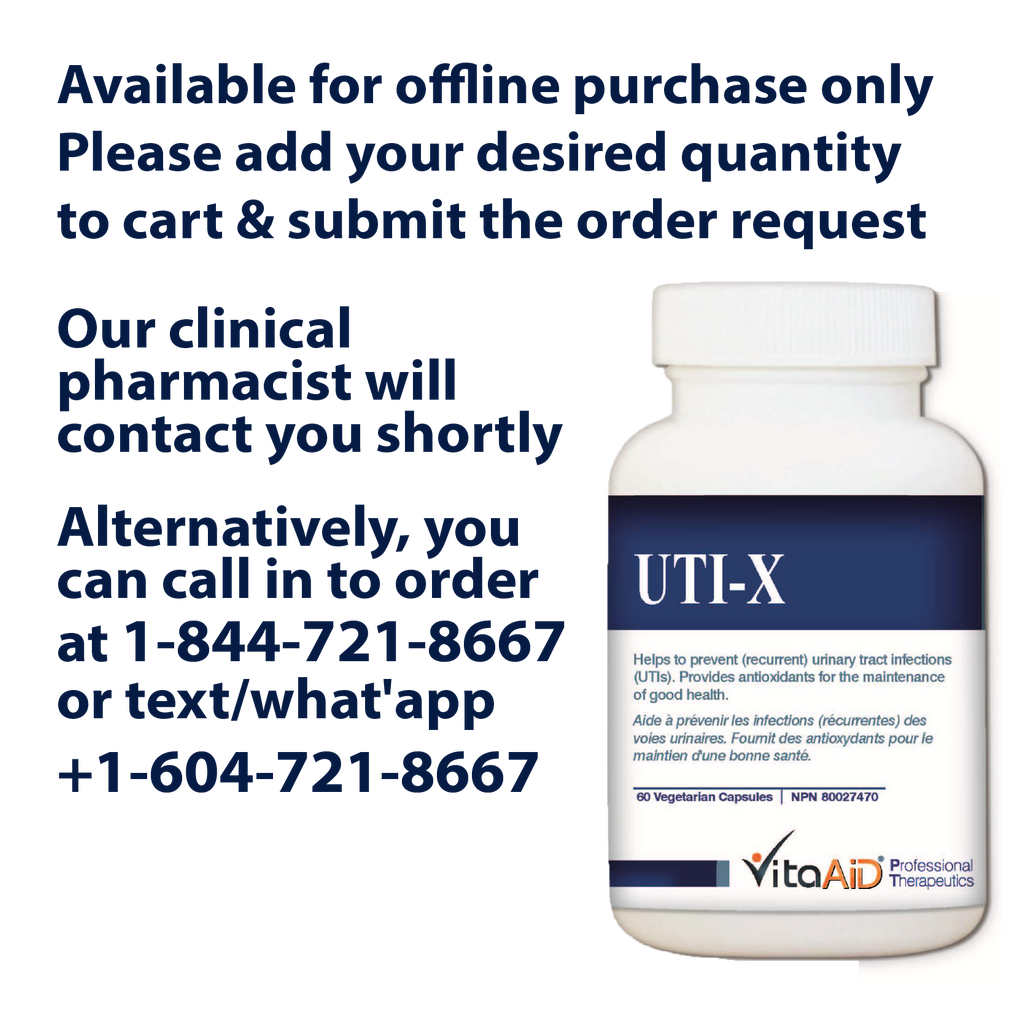 ---
Prevents recurrent urinary tract infections
UTI-X is a unique formula that specifically targets the urinary system to help relieve and prevent recurrent urinary tract infections.
Includes highly concentrate cranberry and Hibiscus flower extract, which contains anti-microbial polyphenols and organic acids to protect against common epithelial pathogens.
Contains D-mannose, a non-caloric sugar capable of preventing the adhesion of bacteria like E. coli to the bladder wall and scientifically proven for its ability to prevent infection of the urinary tract infection.
Can be used in conjunction with regular antibiotics for urinary tract infection.
Suggested Use:
Take 2-4 capsules daily, or as directed by your health care practitioner. Use for a minimum of 4 weeks to see beneficial effects.
Caution:
Consult a health care practitioner prior to use if you are pregnant or breastfeeding; if you have a history of kidney stones; if you are taking blood thinners. Consult a health care practitioner if symptoms persist or worsen.
Supplement facts: (per capsule)
Hibiscus Extract 12:1 (Hibiscus sabdariffa).....175 mg (flower) (equivalent to 2100 mg of dried hibiscus flower)

Cranberry Juice Concentrate 20:1.....200 mg (Vaccinium macrocarpon) (fruit) (equivalent to 4 g of fruit juice)

D-Mannose.....75 mg
Non-medicinal Ingredients:
Silicon dioxide, L-leucine, hypromellose/pullulan (capsule)
---
*VitaAid is offered available through professional clinician only.
*These statements have not been evaluated by the Food and Drug Administration. This product is not intended to diagnose, treat, cure, or prevent any disease.
---
More from this collection