VitaAid Coldefenxin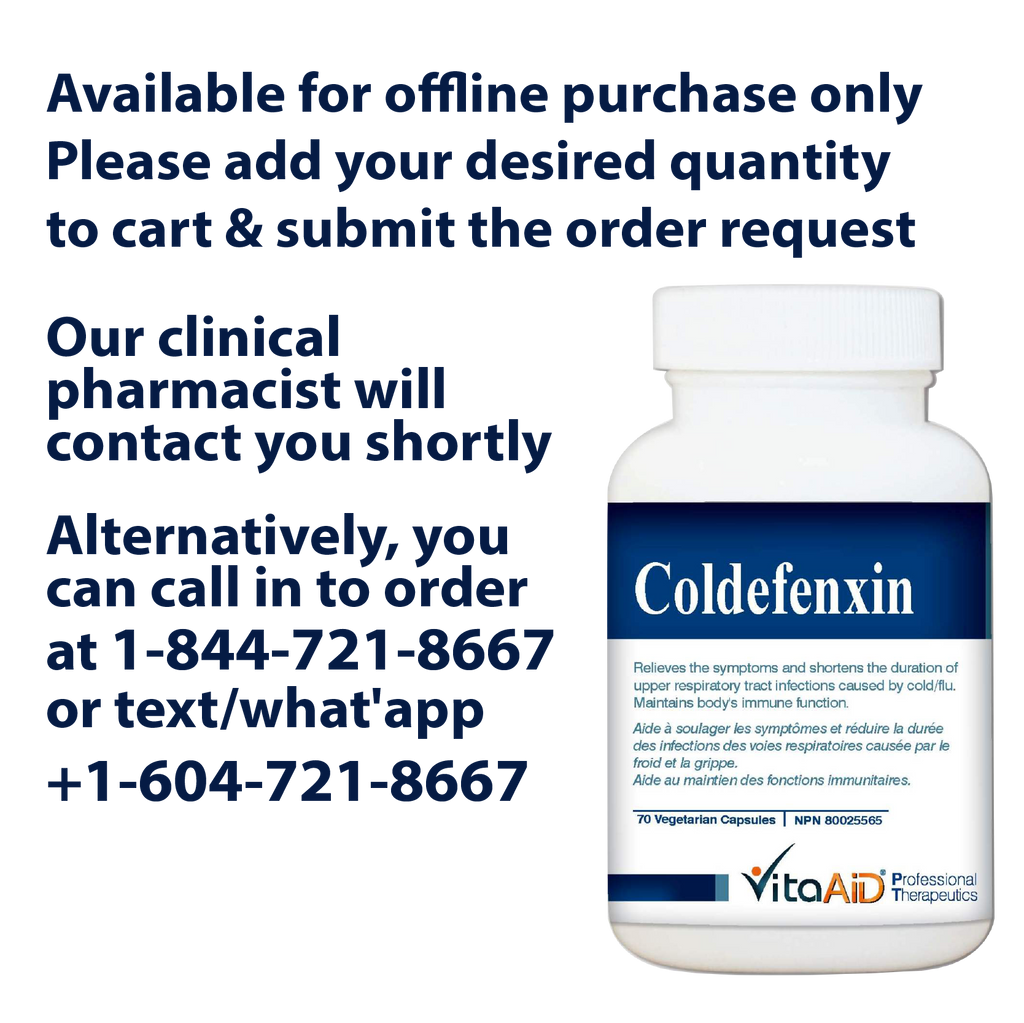 ---
Coldefenxin is a specific remedy for relief of cold/flu symptoms and prevention of its complications.
Coldefenxin works by boosting and strengthening the immune system, help patients recover from cold symptoms without exhausting the immune function.
Highly concentrated herbal extract, which provides effective dose in less capsules.
Suggested Use:
Adults - Take 1 capsule 4 times a day, or as directed by a health care practitioner. Take with food and a few hours before or after taking other medications. Do not use for longer than 3 weeks.
Caution:
Consult a health care practitioner prior to use in cases of autoimmune
Disorders, progressive systemic diseases (eg. tuberculosis, leucosis, collagenosis or multiple sclerosis); if taking immunosuppressants; if you are taking blood thinner; or if you have diaetes. Consult a health care practitioner if symptoms persist or worsen. Do not use if allergic to Asteraceae (daisy) family, or if pregnant or breastfeeding. Zinc supplementation can cause copper deficiency.
Supplement facts:
Ingredients (per capsule):
Echinacea Extract 20:1 (Echinacea purpurea).....60 mg

(whole plant) (equivalent to 1200 mg dried herb)

American Ginseng Extract 4:1 (Panax quinquefolius).....75 mg

(root) (standardized 10% ginsenosides)
(equivalent to 300 mg dried herb)

Zinc (from zinc gluconate).....7.5 mg

Vitamin C (ascorbic acid).....200 mg

Rosemary Extract 6:1 (Rosmarinus officinalis).....30 mg

(leaf) (6% rosmarinic acid)
(equivalent to 180 mg dried herb)
Non-medicinal Ingredients:
Silicon dioxide, L-leucine, pullulan/ hypromellose (capsule)
---
More from this collection